How are you today? I hope you had a wonderful Valentine's Day. One of the gals at work got roses. I went into her office and told her that "I knew when the guy came though the day with them that they just had to be for me"...LOL She got a chuckle out of that. And then, I went to the dentist and the gal there had a huge bouquet of roses....I am glad that Mr Cupid was out in force yesterday especially for my friend at work. It sure made her day.
We really got an ice storm last night and it was really interesting getting to work this morning. Most of my co-worker were and an hour and a half late. I was crossing a bridge when the guy next to me flew by and as he did, he did a 360 and landed in the on coming traffic. I am so glad I stayed back and drove slow. He didn't get hurt which was really lucky for him. There was a car coming but he was able to slow down and miss him........wooo...what a day. And, It is snowing outside tonight again.
Well, it is time to introduce our sponsor this week over at
SWEET SKETCH WEDNESDAY
Sally Ann from
DIGI STAMP BOUTIQUE
Sally Ann is offering our
Grand Prize winner
of this weeks challenge
(6) Six digis of their choice.
I hope you will join us this week. We have made some changes again and have decided that our followers may use any image of their choice to play along. We didn't realize that our followers would drop off like they have the past few weeks. We want to make it fun for each one of you. And, don't want to loose our valued players. Your voice was heard and we are going back to the regular rules.
Be sure to put the sketch on your blog and link it back to SSW. Most of all, be sure to comment. Thanks so much for your contuned inspiration. We couldn't do it without each one of you.
Arlana's sketch
"Fairy Hattie Collection"
Recipe:
Stampin Up, DCWV and Bazzell paper.
Copics
Nesties
Ribbon
Butterfly Punch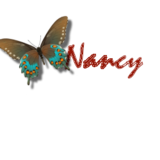 Thank you for taking the time to visit my blog. I appreciate your comments!