Hi everyone. I just got home from a wonderful trip to see Arlana. We had a "shop until you drop" day and I was even able to spend some time with one of my high school friends. We try to get together whenever I visit Arlana. It is always so fun to go, but I always pay for it when I get back to work. Today was just a little crazy...I am pretty tired. The good thing is that I got caught up on everything today. I was really happy about that. I am going to bed early tonight, though...I am really tired.
Sally-Ann is offering our lucky winner
I hope you will visit Sally Ann's store and look around. She has some really cute images.
Olivia and Archie
Don't forget to check out our Design Teams blogs. They have some darling cards for you to view.
The Recipe for my card this week is: Stampin Up and papers from my stash. I have used a Sizzix flower die along with a die from Nestibilities for my sentiment. I popped the image. I used ribbon that Arlana shared with me. I added Rhinestones to the flowers and sentiment. My sentiment is computer generated.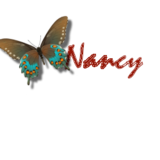 Thank you for taking the time to visit my blog. I appreciate your comments!