Good morning. I hope you have had a wonderful week. I have had my youngest daughter and her little family here visiting. We have had a great weekend together. The kids are really growing and it has really been fun to spend some time with them.
We have a wonderful sponsor this week over at
SWEET SKETCH WEDNESDAY
The GRAND WINNER will receive a $5 Gift Certificate
Hi everyone! Sassy Cheryl here and I'm so happy to be sponsoring the Sweet Sketch Wednesday challenge this week.
I have been creating graphics and have licensed my work to companies such as Kohl's, Hobby Lobby and Shopko, among others, for over eight years. I started creating digital images about twelve years ago. I absolutely LOVE to draw and always carry a small sketchbook for those times when a bit of inspiration hits.

It's been a lifelong dream to become a working artist, and besides deadlines, I LOVE everything about what I do!

It really helps that I have a very supportive husband and son (they also can be my biggest critics!)
Through the digis I create, I've met so many wonderful, talented ladies. The projects they make using my images makes it all worth it. 'Can't wait to see what you will create with my Sassy images.
Thanks for playing along this week… happy coloring
And here is the sketch this week:
I hope you will join us.
Digi Bunny Chitchat
Recipe:
Papers- Recollection, DCWV and Stampin Up.
Martha Stewart Border Punch
Rosette Die by Tim Holtz
Paper Piecing
Sentiment computer generated
Copics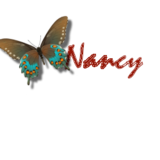 Thank you for taking the time to visit my blog. I appreciate your comments!