I hope you will stop by and join us this week for your Bingo Challenge. Just pick three in a row and join us in some fun at
Border-Flowers-3D Object
It is hard to see in the picture, but the image has been cut out and mounted with two sided tape to give it a 3-D effect.
Stampin Up and Papers from my stash
Copics
Ribbon Flower
Martha Stewart Punch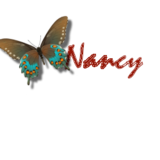 Thank you for taking the time to visit my blog. I appreciate your comments!