Good morning and Happy
SWEET SKETCH WEDNESDAY!
It has been quit the week this past week. After getting home from my daughter's house, my little grand son got the croup and ended up in the hospital for three days. One of those days just happened to be his birthday. The nurses and Doctor did everything possible to make sure the little guy had a nice birthday even though he had to be there instead of home. He is finally home now and is doing a little better. They still have to do the breathing treatments daily, but at least he is back home.
Our sponsor this week is
SASSY CHERYL'S.
and,
Cheryl
is offering our
GRAND PRIZE WINNER
a $5.00 Gift Certificate.
Here is our lovely sketch. Arlana has brought back one of our previous sketches. It is one of my favorites. I am sure you will love it too.
The image I used is called "Overload at school"
I have used Stampin Up and Creative Imaginations paper.
Copic markers
I have popped the little boys hair, shirt, books and apple. It is hard to see it in the picture but it actually, turned out really cute to do it that way.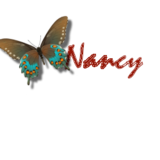 Thank you for taking the time to visit my blog. I appreciate your comments!