I wanted to share with you today the scene that I woke up to on Saturday morning. We only got about three inches, but I love how it looks after a snow storm. It is so beautiful. I haven't been able to go anywhere for a couple of days. I can't get up the hill because it has been a sheet of ice on the road.
I wanted to share a cake that I made this weekend for a friend, too. She wanted it to be a cake with snowflakes all over it. It is a single, one layer cake for a wedding. It is simple but very pretty. I used a powder glitter dust over the fondant. It give the fondant a nice sparkle to it. She is adding a Snowman and Snow Woman in front of the three snowflakes I put on top. I hope she liked it. Her mother picked it up and then headed over to Kingman in a snowstorm. They got married saturday afternoon. I am anxious to here how things went and hope that they arrived safely.
And, now for our sponsor this week:
SASSY CHERYL"S
Cheryl is offering our
grand prize winner
a $5.00 gift Certificate.
"Santa and Little Snowey"
The papers I have used this week are from Stampin Up, Bazzell and DCWV. I used the oval Nestibilities and trimmed the edges to make the points. The red snowflakes are from a Martha Stewart snowflake punch. I have used Rhinestones, Ribbon and Copics. The sentiment is computer generated.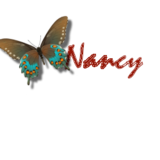 Thank you for taking the time to visit my blog. I appreciate your comments!