What a beautiful day it has been. We have finally been getting some rain. It has been raining of and on for the past two weeks. Everything is turning green. I really love the monsoon season. The past few years, we haven't had much rain. But, this year we are finally being blessed.
We have a wonderful sponsor this week over at
Sweet Sketch Wednesday.
I hope you will stop by and join us.
Pattie's Creations
Here is Pattie Gomez's Bio
I am an Internet Technology Professional and an Artist. I always dreamed of being an artist, but I found out quickly that I needed another field to support my family so I pursued a Degree in Information Technology. I love to use Adobe Photoshop, Illustrator and Fireworks to enhance my work.
I created a character called Pattieboop and her cat named Allie. I have had so much fun coming up with different images so I also created a site to sell them. You can go to my store to find out more about Pattieboop & Allie. I know you will just love them when you see them.
Pattieboop
is an 11 year old girl who is very opinionated. She was created by me, Pattie Gomez on September 7, 2009. Pattieboop is an average 11 year old and she loves dressing up. She is very petite in nature but stands tall because her mother always told her that "If you stand tall you will one day become someone important". Pattieboop always remembers her mother's words and makes sure she is noticed.
Pattieboop has a favorite pet named Allie. Allie is a slender black cat and loves playing and spending time with Pattieboop. Allie spends most of her days napping and her nights are spent getting in to mischief
…
Our Grand Prize Winner will receive: 3 digis from Pattie's shop
Thinking Of You Daisies
Recipe
Papers: Stampin Up and My Minds Eye
Flower and Brad
Cuttlebug Embossing Folder
Ribbon
Copics
Barbara Trombley's Elements "Morraco"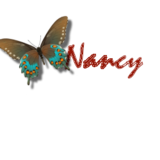 Thank you for taking the time to visit my blog. I appreciate your comments!