Well, it is with a very sad and heavy heart that I make this post today. It has been a very difficult few days here in Prescott, AZ. We just started recovering from the Doce fire and now this...Half the town of Yarnell is gone...and
Prescott lost 19 of their Hotshot Fire Fighters Sunday afternoon. I am sure that you have heard about it on the news. But, it really come close to home when you know so many of the families personally. My thoughts and prayers go out to all of the families that have lost loved ones and, to those that have lost their homes. I know so many of these people. May God bless and be with them.

Here is her bio:

Clearly Digi Stamps (Clear Dollar Stamps) is a home-based business run by moms! Located in Pleasant Hope, Missouri, we run the main operations out of Lori's (my) basement. We have illustrators from all over the United States and join forces to bring you the a variety of styles and images at incredibly affordable prices. We believe that the value we put in our Digi sets are above and beyond what you will find at many other stores....and we want it to be that way. As moms, budgets are many times very limited, but we still need our creative outlet too! Enjoy!
Clearly Digi Stamps has 6 artists that illustrate for us: Laurie Wilson, Lisa Lara, Deedee Anderson, Austin Owens, Patrick Dunnegan and myself, Lori McCroskey. We love what we do and love to create digis for you to play with!
If you have suggestions for Digi Sets, we would love to hear your suggestions....just send us an email at

Lori@cleardollarstamps.com

This email address is being protected from spambots. You need JavaScript enabled to view it.

!
The parent company of Clearly Digi Stamps is Clear Dollar Stamps LLC. You can learn how Clear Dollar Stamps got started below.

How Clear Dollar Stamps got started:
Motto: Where value and creativity meet!
Hi! My name is Lori McCroskey and I am the founder and owner of Clear Dollar Stamps, LLC. I started stamping in the summer of 2000 while I was pregnant with my first little girl. I had a friend from church that kept asking me to go to stamping parties, and I just thought stamping party, how silly is that? Finally, I relented. I went to a stamping party, got hooked on scrapbooking AND found out there were inks that I could stamp on clothing! I have a fashion design minor so I was hooked from that moment on! Can you imagine? Matching clothes and

scrapbook

pages? I was in heaven.
After having my first child, my ideas of spare time quickly vanished. There weren't many stamped dresses, but I found time to do some scrapbook pages, cards and gifts! As my passion for stamping grew faster than the money in my billfold, I decided to start selling one of the lines of stamps, for an existing stamp company, shortly after my second little girl was born. I would throw food on her

high chair

and run to my stamping table in the same room to see how much I could get done while she ate! LOL, We've all been there! As time went on, it became harder and harder to leave my little girlies crying in the hallway as mommy went off to do a stamp party. It just broke my heart. Thus, the dream of Clear Dollar Stamps began.
Why did I start my own stamp company? Most stamp companies, at that time, would not let you sell their products on the internet, which is what I wanted to do..I wanted to be at home. I also found it very hard to find unique Christian stamps. I really wanted something that would convey my love for God in a whimsical, out of the ordinary sort of way. As a stay at home mom, I wanted to create a line of stamps that other stay at

home moms

could afford to create beautiful cards, crafts, and scrapbook pages. Why did I name my company Clear Dollar Stamps? I wanted people to know they were affordable! Why do I have a cross in the middle of my company name? I want people to know that Christ is the center of my business and the center of my life!
I come from a very crafty and artistic family, and believe it or not, I have the least talent of them all! My sister is the trained artist of our family, not me, so I decided to teach myself to draw. I invested in a drawing program, enrolled in an online tutorial service, and prayed for the girls to take LONG NAPS! After much internet cruising for suppliers and manufacturers, Clear Dollar Stamps introduced our first set of stamps on eBay in October of 2004. The learning curve was huge and at times very painful, but God always blessed my brain at just the right time with the ability to take the next step.
I give God all the glory for the very existence of this company and thank everyone who has prayed for me along the way!
Prize: $25 Gift Certificate to the store for the Digi Section
Gone Fishing
Supplies:
Stampin Up and papers from my stash
Ribbon
Copics
Brads
Sentiment from Gone Fishing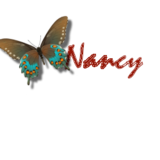 Thank you for taking the time to visit my blog. I appreciate your comments!