Our Challenge this week at
Come join us for a week of fun.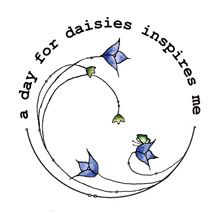 Bio:
A Day For Daisies began as a small token to a constant need to create. Pairing a love of whimsical illustration, with a tidy graphic design background, Tammy S Thompson, produced her first stamp designs, introducing irresistibly sweet stamps to crafters around the globe. Drawing inspiration from the beautiful world around us, she strives to express the happiness and gratitude she feels in each stamp design she creates.
Presently, A Day For Daisies has grown to over 3,000 Digital Stamps with a quickly expanding line of Best Loved Clear Polymer. A Day For Daisies has been published and awarded over the years for innovative and unique designs created to inspire the crafting community. With a whole team behind her now, she remains passionate about illustration, obsessed with quality, and dedicated to her customers. A Day For Daisies thanks you for your ideas, comments, and creativity!

Our Grand Prize Winner will receive: $12 Gift Certificate
Supplies
Stampin Up and DCWV Papers
Copics
Buttons
Ribbon
Digital Sentiment
Spellbinder Dies
Thank you for taking the time to visit my blog. I appreciate your comments!