Happy Wednesday Everyone!!
it is time again for a new challenge
And, here is a little bio:
Elisabeth Bells Digital Collection features enchanting, whimsical, Digital stamps for all of your paper-crafting projects!
Although Elisabeth illustrates for several stamp companies, no one except Elisabeth Bell herself has a collection of sweet digital stamps, this is a perfect way to get your instant gratification.
With a growing catalog of high-quality digi stamps, Elisabeth offers a multitude of themes. Such as holidays, special occasions, childrens adorable characters, and just the everyday cuteness that Elisabeth is famous for producing.
These Digi Stamps are available in standard black and white line art, and are great for resizing, and rotating to suite your needs.
Inspiration, by her very own Design Team, is posted, and shared daily, on Elisabeth's "Digi Bells Blog" using Elisabeth Bell's digital art.
The Grand Prize Winer will receive: 2 digis from the three that we are using today.
Supplies:
Stampin Up and Papers from my Stash
Stamp in Up Ribbon
Ribbon from Hobby Lobby
Recollection Flower
Copics
Embossing Folder
Circle Nestibilites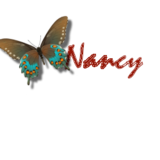 Thank you for taking the time to visit my blog. I appreciate your comments!